Masala Drop
Regular price
Rs. 299.00
Sale price
Rs. 279.00
Unit price
per
Sale
Sold out
Masala Drops Bombay Chai Masala retains the original taste of tea that is found in Bombay
Bombay Chai Masala contains the best spices – handpicked and organically grown and tested and then refined into drops.
Masala Drops Bombay Chai  will save your time and ease your tea making process. It is also a great savior for on the go and makes for a perfect gift for any one who loves a good cup of tea.
No refrigeration is required. Easy to store, no loss of flavor
 Product Description
Bombay Chai Masala Drops – The freshness you need!
Just like the name – strong, fresh and reviving – we bring you the essence of freshly brewed tea in a drop. A taste that Bombay calls it very own!
Wake up each morning to the energizing pulse of the city in a drop over your freshly brewed tea.
Just squeeze and add one drop per portion to your drink as it finishes and add that extra punch to your freshness quotient of the day.
Masala Drops Bombay Chai – A dash of goodness
Usage
Add 1 to 2 drops per cup of milk tea after filtering in the cup.



Add 2 to 4 drops for 200ml of milk tea while boiling.


Add 5 to 10 drops or as required for bulk preparation.
Share
View full details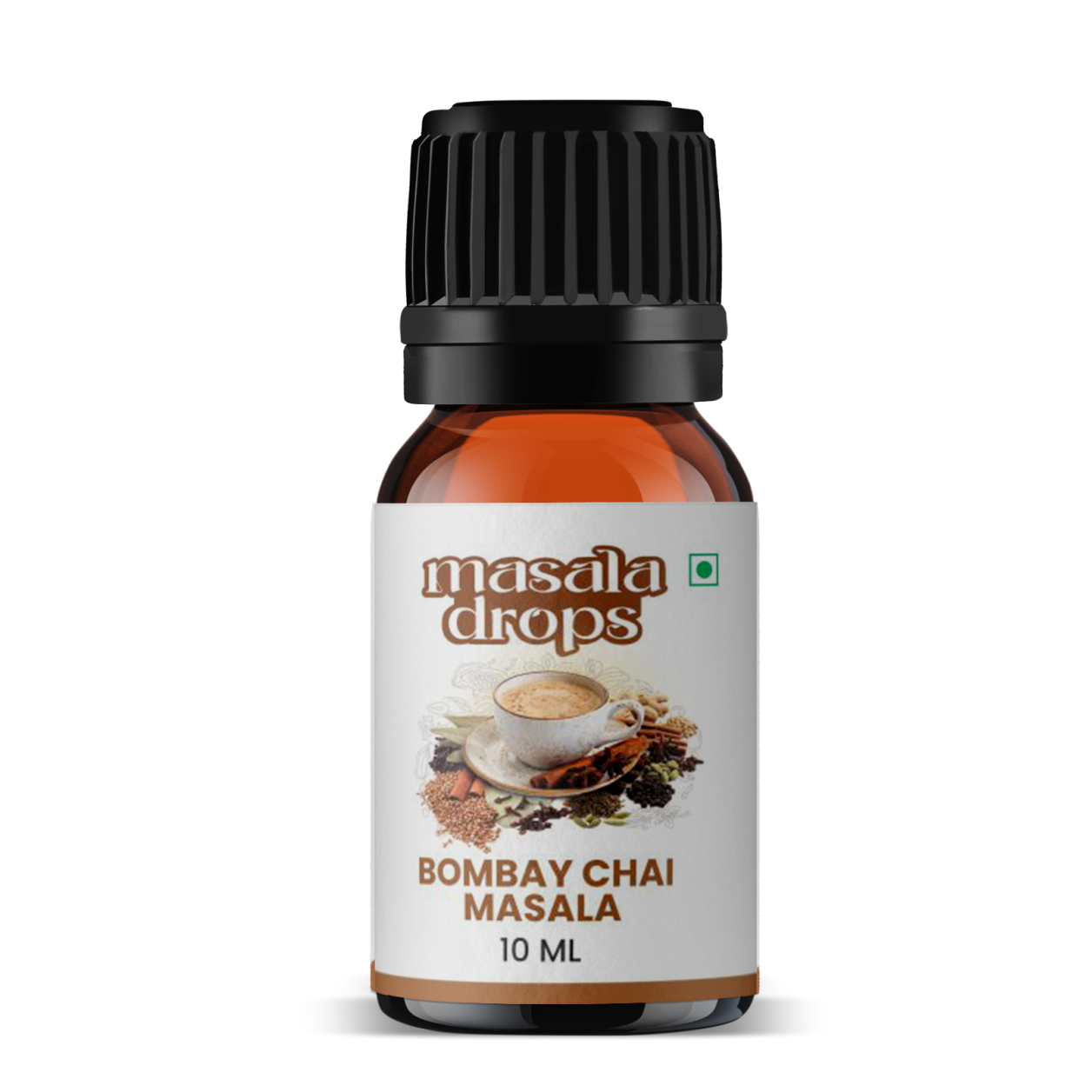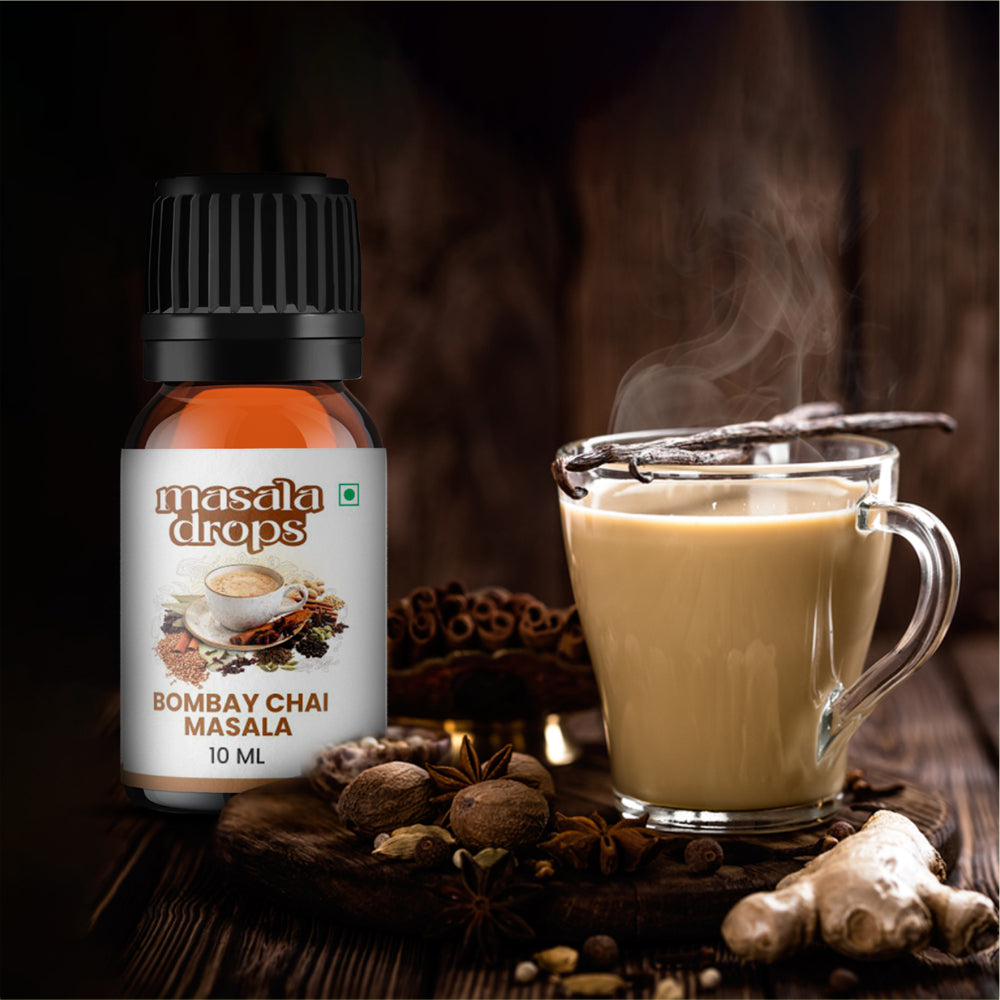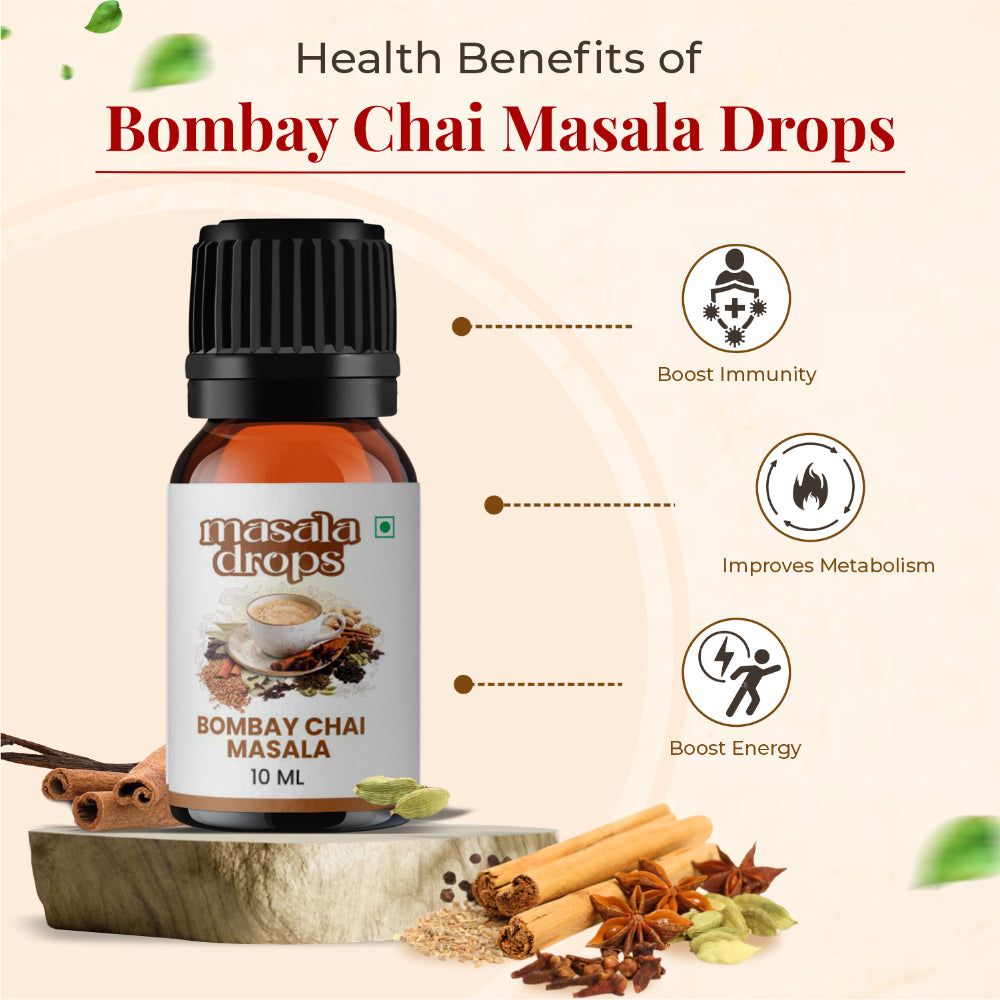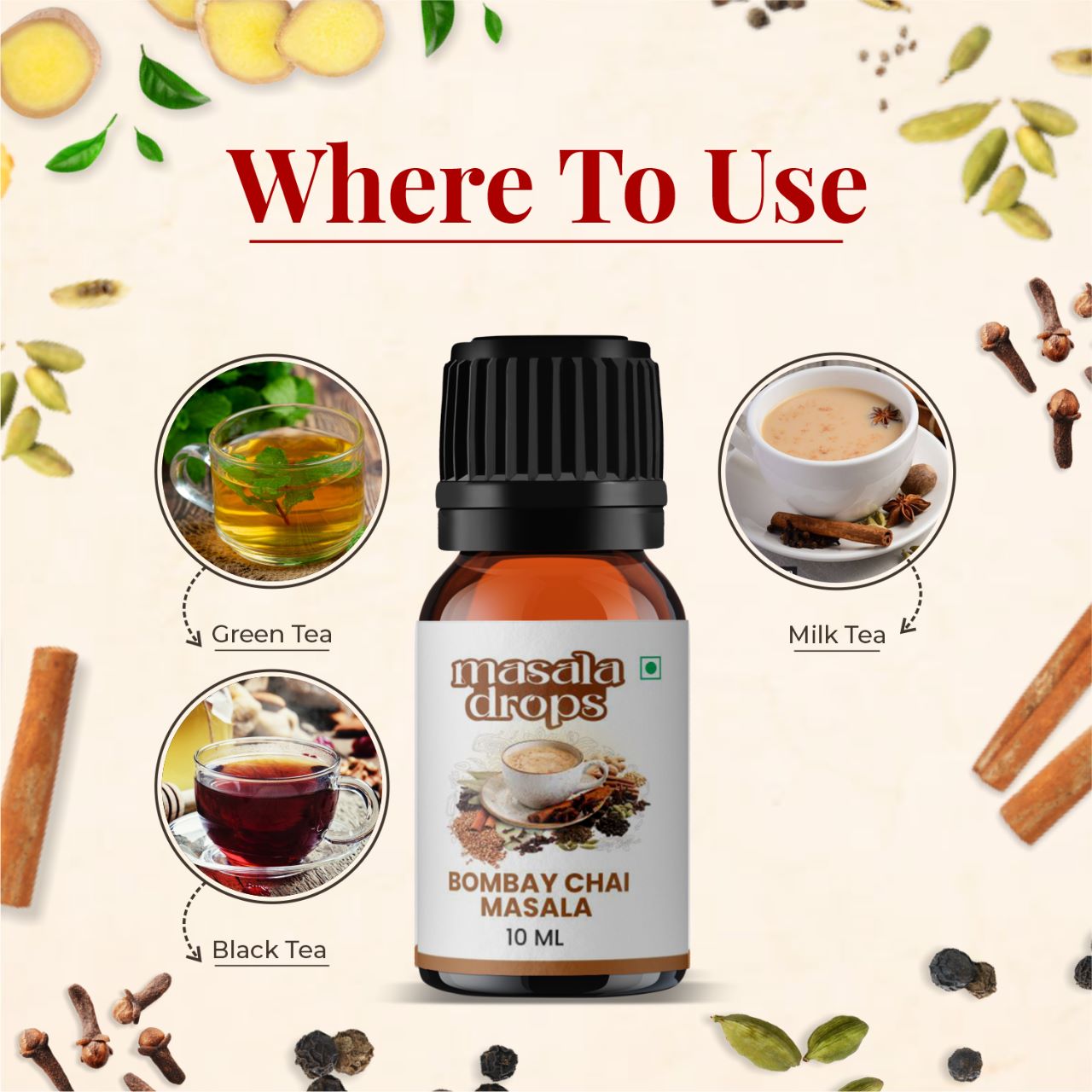 FAQS
Are Your Products Natural?

Yes. Masala Drops products are all 100% natural and we don't use synthetic flavors or colors.
How Many Drops To Be Used In Cooking?

For Cooking 2 To 3 Drops Per Portion Of 200 Grams
For Baking 3 To 4 Drops Per Portion Of 200 Grams
For Tea 1 To 2 Drop Per Cup
For Salad And Smoothies 2 To 3 Drops
For Use In Warm Water/Honey/Apple Cider Vinegar 1 To 2 Drops.
Where Can I Use The Drops?

Masala Drops Has Range Of Products To Use In Tea, Coffee, Milk, Cooking, Baking And Much More. Customers Can Try And Experiment New Dishes And Masala Drops Can Be Convenient Alternate To Actual Form Of Spices And Masalas.
Please Refere Our Youtube Recipe Videos @Cook With Masaladrops
What Is The Shelf Life Of Masala Drops?

Masala Drops Products Are Best Before 24Months From The Date Of Manufacturing.
How To Compare Regular Spice & Masala Powder Quantity With Drops? What If I Use More Drops In One Portion?

Masala Drops Products Are Concentrated Extracts And 3 To 4 Drops Is Ideal For Taste. To Compare 5 Drops Will Be Quivalent To One Spoon Of Spice Powder. Using More Drops May Give Stronger Spice Flavour To Food Which Changes the Taste.
What Is The Best Way To Store? Can I Refrigerate?

Masala Drops Products Are Best Before 24Months From The Date Of Manufacturing And Can Be Store In Normal Room Temperature. Donot Refrigerate Or Freeze.
How Long Does The Shipping Takes?

Most Of Our Pan India Orders Are Delivered In 3 To 7 Working Days.